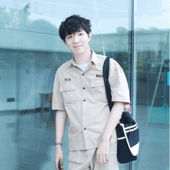 Peng Song
Game Developer – Development
(Wish to be the best) Game Developer / Researcher / Editor. From China. 
I accomplished my Bachelor's in Digital Media Technology in Beijing and continued my Master's at Leiden University. It's undoubtedly exciting to include beloved games in my research and work. 
I also created a podcast with three friends living in different countries to talk about everything semi-seriously and keep us sensitive to the world. My attitude to this planet is generally negative, but I would still end every story the way I want. 
May all the beauty be blessed!
❤️
Walk in forests
Stand high
Scrambled eggs and, tomatoes, shrimps in a hot pot
Writing my wiki
Sing, Performance, Drama
Speech
Movies: Like Sunday Like Rain, Ready Player One, The Monster Calls, La La Land
Anime: Digital Monsters, TSUBASA翼, SSSS.DYNAZENON, Words Bubble Up Like Soda Pop, Fate
Games: 13 Sentinels: Aegis Rim, Xenoblade Chronicles, Octopath Traveler, Guardian Tales, Gorogoa, Honkai Impact 3rd, Deemo
Books: The Little Prince, 銀河鉄道の夜
Music: Vocaloid, OST, light and classic
😠
Boredom
Hypocritical
Disrespect
Curse
Reptiles
Bugs