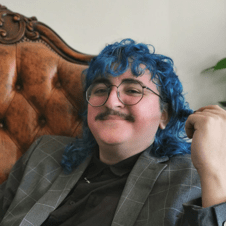 Daniël Van Es
Product Manager – Product
Heyo I'm Daniël. An easy-going, sweet nerd with a passion for games.
Making games, playing pretend, and having fun as my job is a little kid's dream come true. As a Product Manager, I help the team create cool experiences for players. I chart the course and, together with the team steer the ship.
My other responsibilities include Game Design and QA, so I'm also the lore master and fun maximiser!
Likes <3
Cooking & eating
Shrimp aquariums
Bouldering
Magic The Gathering
Anime, fav: Akame Ga Kill, Tokyo Ghoul and Soul Eater
Music, everything from indierock to hyperpop to LoFi hiphop
Speciality and craft beers
Games, duh. Faves rn are: Apex Legends, Divinity Original Sin, Sims 4, Genshin Impact
Dislikes ):<
People who don't communicate
Office politics
Train delays
Restaurants with no good vegetarian options